This is an automatic FFP2 cup mask making machine, the cup shape can be customized, we can also copy the cup shape according to your cup mask samples. The cup mask hot press forming module can process 2 masks at a time, so as to maximize the efficiency of the entire line, it greatly improves the production efficiency.
This machine integrates the functions of automatic material feeding, hot press forming, ultrasonic edge sealing, mask cutting, attaching nose clip, welding head strap, punching hole, welding breathing valve and so on. It adopts a 6-axis material prefeeder, and each axis is driven by an independent motor, which can ensure that the tension of the fabric is basically constant.
The breathing valves are fed by vibrating plate automatically, and the installation direction of the valve can be accurately controlled.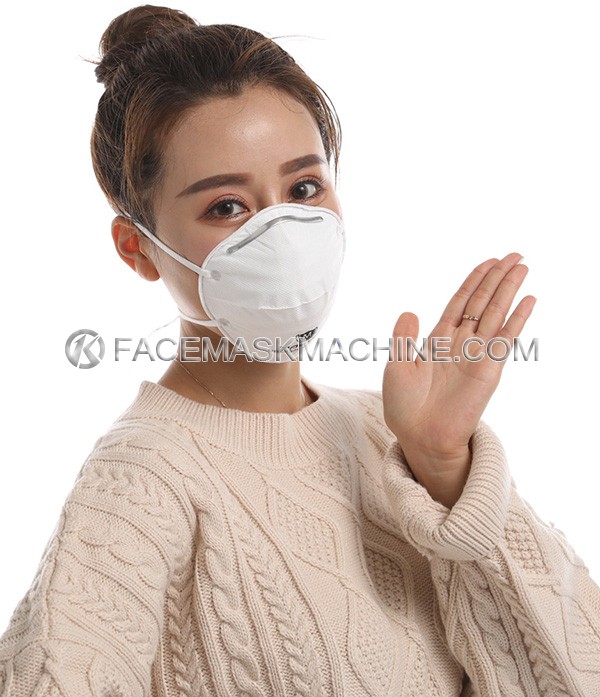 | | | | |
| --- | --- | --- | --- |
| Model | Valve Function | Mask Printing | Valve Printing |
| KS-C95P | None | Option | None |
| KS-C95P+V | Have | Option | Option |
Each function module can be closed freely in the program, for example, when you choose the machine with automatic installation of breathing valve, you can also close the valve function for the production of cup masks without exhalation valves.
| | | | |
| --- | --- | --- | --- |
| Without Valve | With Valve | Welding Type | Staple Type |
| | | | |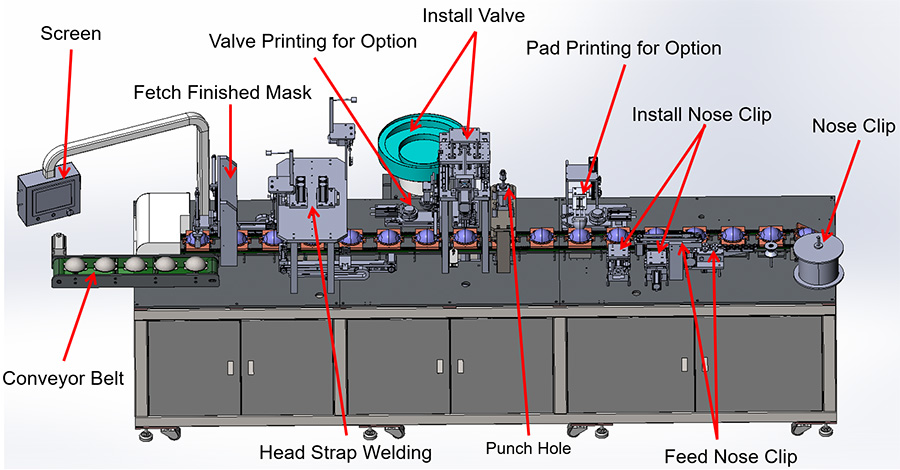 Speed: 15~20pcs/min
Power Supply: 220V (Option: 380V, 415V, 110V)
Power consuption: 12KW
Air Pressure: 0.7Mpa (400L/min)
Net. Weight: 3000Kg
Raw Material List:
Material
Specification
Width
Roll ID
Roll OD
For 1 Million
Surface Non-woven Fabric (Option)
25~50gsm
220mm
55~80mm
≤650mm
1ton
Activated Carbon Fiber Cloth (Option)
180~200gsm
185mm
55~80mm
≤650mm
4ton
BFE99 Melt Blown Fabric (2~3 layers)
25~50gsm
185mm
55~80mm
≤650mm
1ton
Needle Punched Cotton
180~220gsm
220mm
55~80mm
≤650mm
8ton
Flat Head Strap Elastic Rope
5~7mm wide
≤220mm
18~30mm
≤260mm
800kg
Exhalation Valve
Various types for choice
1 million
Nose Clip Wire With Melt Adhesive
5mm wide
≤150mm
25~40mm
≤260mm
1ton