This is a fully automatic FFP3 respirator production line, it can automatically complete the mask with the structure shown on the below picture (with inside nose pad, exhalation valve, adjustable head-straps).
1. Mask Body Forming: Non-woven fabric and meltblown fabrics are pre-formed separately, only needle-punched cotton is thermoformed, and then these materials are combined and edge-sealed, then cut to form a cup shape. Since the meltblown cloth is not heated, it can protect its original filtration efficiency and air permeability to the greatest possible extent.
2. Nose Clip Installation: The fixing method of the nose bridge can be customized according to customer requirements, such as ultrasonic welding, hot melt adhesive bonding, etc.
3. Head-strap Buckles Welding: The buckles are fed by 4 vibrating plates, and welded to the mask body by ultrasonic. Head-strap buckles allow users to adjust the length of the strap by themselves.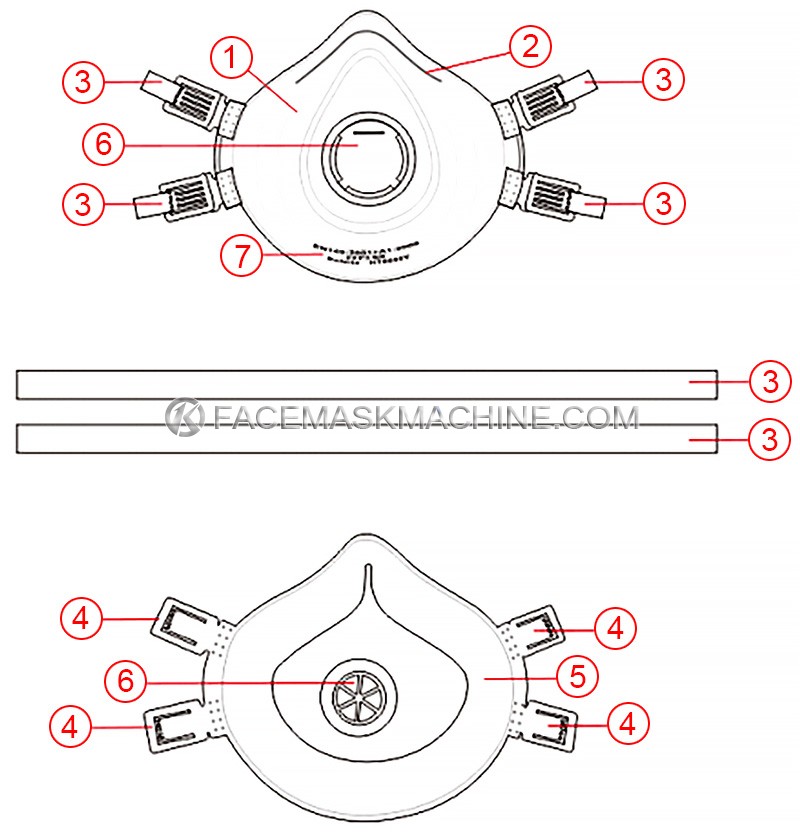 4. Head-strap Installation: The head-straps are automatically fed, cut, and inserted into the head-strap buckle. The length of the 2 straps can be cut at different length.
5. Nose Pad Installtion: The latex foam is fed and cut to required shape, then welded to the inside of the mask automatically. The soft face pad provides a good seal and ensures a high wearing comfort.
6. Breathing Valve Welding: Exhalation valve is fed by vibration plate, and then welded to face mask automatically. Exhalation valve is used for lighter breathing resistance.
7. Pad Printing: This machine is equipped with pad printing function and supports printing LOGO and batch number on the mask. It is easy to change the pad printing plate in different printing.
FFP3 masks have ≥99% (95L/min) filter efficiency and have a total inward leakage of ≤2%, this includes a facial seal leak. Adjustable head-straps and inner nose pad ensure good face fit, breathing valve can reduce exhalation resistance, melt-blown cloth can keep its original best performance without heat process, our cup shape design allows heat to escape and reduces eyewear fogging. All of these combine to make the machine can produce masks that meet FFP3 standards.
Note: Conforms to the relevant CE directives on machine safety and electromagnetic compatibility.