This is a fully automatic 3 ply disposable face mask making machine with one inner loop line, it is mainly used for the automatic forming of planar inner ear mask with four-package edge: the whole roll of cloth is driven by roller after being unrolled, and the cloth is automatically folded and packaged. The bridge of the nose strip is pulled and unrolled in a single roll, cut at a fixed length and then imported into the edge of the bag cloth. The two sides are welded to the seal by ultrasonic welding, and then through the ultrasonic side seal, through the cutting knife cutting molding; The mask is transported to the welding station of the muzzle belt by an assembly line, and the final mask is formed by ultrasonic welding. When the mask is made, it is delivered to the flat line by an assembly line for collection.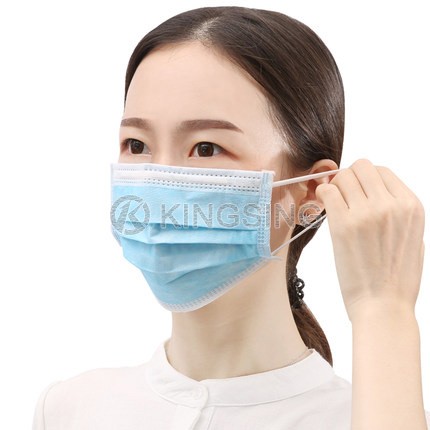 Fully automatic production line of one-to-one plane inner ear mask machine realizes the full automatic production of plane mask, mainly including the technologies of coil feeding, folding and pressing, nose bridge tendon feeding, mask shaping, mask cutting, ear belt feeding and welding, finished product blanking, etc., which completes the whole production process from the raw material of coil to the finished product of mask. The equipment adopts ultrasonic welding method, the style is beautiful, health, environmental protection. The masks are comfortable to wear, no pressure, good filtering effect, fit the face shape, can be applied to medical, electronics, mining, construction and other industries.
Adult Mask: 175*95mm
Children Mask: 145*95mm
One machine only support one size.